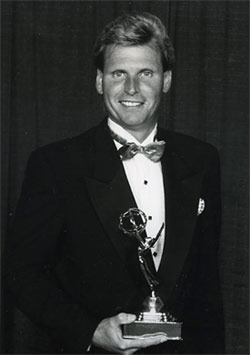 Ross has been in the news business for over 40 years with more than 18 years of his career spent in Los Angeles. From the San Fernando and Northridge earthquakes, to the L.A riots, the Malibu fires, and the O.J. Simpson trial.  Ross Becker has covered recent history's biggest news stories. He has 15 Emmy nominations and four Emmy awards, proving he knows how to find and bring you the story.
Ross began his career in broadcasting in 1975 as a reporter, at WRFV-TV, in Green Bay, Wisconsin.
After two years of developing his skills, he moved to WTHR-TV, in Indianapolis where he earned the opportunity to anchor, in addition to his duties as a general assignment reporter.
In 1980, Ross transferred to Los Angeles as a reporter and weekend anchor, at KCBS-TV.  In the ten years Ross was at KCBS-TV, he had 12 Emmy Award nominations. He received three Emmys for coverage of the Cerritos plane crash, Southern California windstorms, and coverage of the 1986 San Fernando earthquake. He also received 6 Golden Mike Awards and the AP Mark Twain Award for news writing. In addition, Ross spent two of those years heading up the KCBS Investigative Team and served two years as President of the Radio/TV News Association of Southern California.
One of his major investigations brought down a scam artist named Barry Minkow.
In 1990, KCOP-TV, Los Angeles approached Ross about accepting the responsibilities of primary anchor for the evening newscast.  There, he again rose to award-winning status, receiving an Emmy Award for "live" coverage of the Reginald Denny beating, which preceded the 1993 L.A. riots, and was nominated for another Emmy Award for "live" on-scene coverage of the Malibu wildfire.
In January of 1996, Ross Becker conducted an exclusive interview with O.J. Simpson. It was the first, video taped, interview with O.J., following his acquittal on murder charges.
Then, in 2016 Lifetime did a documentary on the O.J. case and interviewed Ross about his exclusive interview:
Ross then accepted another professional challenge and turned his attention to a different aspect of the broadcast industry.  He became the owner and CEO of Basix Communications, L.L.C.  Basix operated three radio stations in Elizabethtown, KY. Ross became an active member of the community in addition to growing the radio station group into a multi-million dollar enterprise.
In 2001, Becker returned to broadcast journalism, when he accepted a position as a reporter/ anchor on MSNBC.  He anchored two hour blocks of news programming on the national cable network.
Ross then had the opportunity to return to the West.  He went to Las Vegas as primary anchor for KTNV ABC 13.
After three years in Las Vegas, Becker went back to Los Angeles, taking a position as anchor/reporter for KNBC-TV. He worked on developing a new type of daytime newscast that aired live from the newroom. He was working with award winning producer Michael Horowicz.
When the KNBC project ended, Becker was convinced to move to Salt Lake City, Utah and assume the primary anchor duties at KTVX-TV, the ABC affiliate there.  During his time in Utah, he was nominated for an Emmy for his "live" coverage of the Trolley Square Mall massacre.
Becker covered the GOP Convention for KUSI in 2016

in 2011, Becker moved back to California and became the solo anchor for the 11:00 pm newscast for the number one independent station in the country, KUSI-TV, in San Diego. In 2017, Becker added to his long resume' when he became the news director at the Palm Springs NBC affiliate, KMIR.
Ross has a B.S. Degree in Broadcasting/Journalism from the University of Wisconsin-Platteville.  He attended the Poynter Institute for Media Studies in St. Petersburg, FL and has been a member of the Society of Professional Journalists since 1973.
Ross taught classes in TV/Radio reporting at UCLA in 1985 and 1986.  He is also a 15 year veteran mentor for the Associated Press Reporter/Anchor Boot Camp in Malibu.
He was born and raised in Wisconsin, and yes, he is a Green Bay Packer fan.
LinkedIn Profile
https://www.linkedin.com/profile/view?id=10134846&trk=spm_pic
Watch Ross in action on-the-air

Complete list of Professional Awards and honors
4 Emmys – Academy of Television and Radio Artists
15 Emmy nominations
Live Coverage Cerritos Disaster/Midair crash
Live Coverage Beating of Reginald Denny/L.A. Riots
Live Coverage Wind Storms
Live Coverage Earthquake
News Reporting Drug Emergency
News Reporting The Cerritos Disaster/midair plane crash
News Reporting Gang Roots/birth of an L.A. street gang
Serious News Feature Reporting Diary of Hope/Cancer survivor daily diary
Investigative Reporting Making the Grade/private school grading scams
Investigative Reporting Franchise Scam
Investigative Reporting White Power Underground/Aryan Nation
Investigative Reporting Air Travel/Safety
1986 News Reporting Mid Air Collision over Cerritos
1987 Live Coverage Earthquake
1989 Live Coverage Wind Storms
1992 Live Coverage Beating of Reginald Denny/L.A. Riots
12 Emmy nominations-Los Angeles
Associated Press California Best ANCHOR 1995
Associated Press California Mark Twain Award/Best News writing
Associated Press California Best Spot News 1994
Associated Press California Best Spot News 1992
Associated Press California Best Enterprise Reporting 1989
Associated Press California Best Spot News 1987
Associated Press California Best Spot News 1985
Associated Press Indiana Best Documentary/Gun Control 1976
Associated Press Indiana Best Feature/Witchcraft 1976
Associated Press Indiana Best Spot News/Shootout 1977
Associated Press California Mark Twain Award/Best News writing
L.A Press Club Best Investigative Reporting
L.A Press Club Best Spot News
RTNA Golden Mike Awards
1984 Best News writing/Desert Plane
1987 Best Live Coverage/ Earthquake
1987 Best Investigative Reporting/ Franchise Scam
1987 Clete Roberts Presidential Award for Service
1988 Clete Roberts Presidential Award for Service
1991 Best Anchor/Newscast KCOP-TV

Best Newscast KMIR-TV