(I have been writing stories about some of the unusual stories I have covered so far in my career. This is another one.)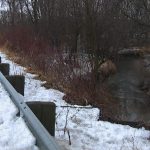 In January of 1975, a beautiful young woman was murdered. She was home in the Green Bay, Wisconsin area for the holidays and was at a New Year's Eve party. She made the wrong choice that night, but it should not have cost her life. Her name was Susan Reignier. When I began researching for this story on social media I was contacted by some of her family and friends. They want her remembered for her smile and her spirit. The man who killed her was my friend and I ended up in the courtroom one day during his murder trial as a reporter.
His name was Dickey. That's what we called him in high school. His last name is not important to this story and I don't want to give him the satisfaction of having his crime sensationalized in print. He was not the most popular kid in school, by far. In fact, he was a little quiet and maybe even shy. My best buddy, Joe, and I would sometimes drive by and pick up Dickey when we went out on a Saturday night. He was in our class and he lived in our neighborhood. He was just like our other friends or, at least, we thought so.
After we graduated Preble High School, I went off to college and lost touch with Dickey. Turns out that was a good thing. My first journalism job after college graduation was back in Green Bay. I got the chance to report for WFRV-TV in my hometown. It was May of 1975.
One of the stories on our coverage list for the month of June was a murder trial. A woman's body was found in January on the ice of Ashwaubenon Creek. Police said the man arrested for her murder confessed but was pleading not guilty by reason of insanity or diminished capacity.
Another reporter was assigned to cover the trial, so I wasn't paying much attention to the details. It was my first job out of college and I was focusing on the stories I had to tackle. However, one day the reporter assigned to the murder trial called in sick and I had to step in. When I saw the formal name of the man on trial I wondered if it was the same guy I knew in high school. It was a common last name. It couldn't be. Could it?
When I arrived at the Brown County Courthouse that morning, I headed up stairs to the courtroom. There were a few people already there, but no defendant. I sat down with my notebook and waited. A few minutes later, the side door opened, two deputies led him in. He was dressed in an orange jail jumpsuit. I was shocked. It was him. My high school friend Dickey was handcuffed and facing 25 years to life for murder. I was in the front row of the courtroom and Dickey did a double-take. I was staring at him. Our eyes met. He shuffled over to the table and before sitting down he said, "Hi Ross". That was it.
It was my first real court case as a reporter and my first taste of a murder trial(I would cover hundreds more). Dickey had picked up the girl who was hitchhiking home from a New Year's Eve party and stabbed her. He dumped her body on the creek bed. I never found out the motive for this brutality.
I reported on what happened in court that day and the next day the other reporter was back on the case. I went on to something else, but I never forgot the look on Dickey's face when he saw me or the feeling in my heart.
The guy we hung around with as high school students, was sent away to prison. Do you really know the people who you call friends or acquaintances?
One of the people who posted a comment recently when I was working on researching this story said, "She (the victim) was my friend. I never use the word hate but I hate the boy who took her life!" We all do, even his friends who end up being reporters.