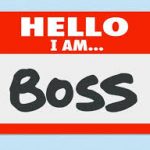 One of the things we will all face during our careers in broadcast journalism is change. One boss will quit or get fired and another will come in with new attitudes and new rules and new challenges. It's a moment you can use to improve.
Before you meet the new person in-charge, re-examine your style, your interaction with fellow workers, your personal habits, your commitment to learning. Make a commitment to displaying a positive attitude and to smile more. After all, you are doing what you always wanted to do, right? If you aren't then this is a good time to make a promise to yourself to discuss it with your new boss.
Think of ways you can volunteer to help your new supervisor. Show them that you are a team-player and not afraid to see problems and solutions in a new way. Remember, the new boss is coming to the job with new ideas, too.
Learn a new skill. This is a great time to add to your toolbox and make it clear to everyone that you are stretching yourself.
Sometimes when an old boss leaves, you feel uncomfortable. Use that feeling to make yourself better.