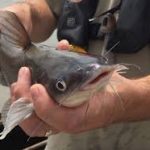 (I am writing short stories about the TV news stories I have covered over the years and what they have taught me. This is one of them)
One of the ways we found stories to chase was to scour the small town, weekly newspapers from all over Wisconsin. Each community had its own publication filled with school lunch menus, library hours, obituaries and feature stories about their colorful residents. One morning in 1974, while working at WLUK-TV in Green Bay, I found a story I just didn't believe, but I found out that it really was all about "believing".
The headline in the Omro Herald was "Local Man Won't Give Up Search for Giant Catfish". Frank Tucker told his story to the local reporter about the day over a year ago when he was fishing one morning in his sun-bleached old boat in the pond behind his neighbor's barn. Frank says he had never seen a catfish as big as the one on the end of his line. "It wasn't a fighter", he said, but it was huge. He explained how he rowed the boat toward the shore as he held the fishing pole pinned to the bottom of the boat with his work boot. Just as he got the giant catfish within 15 feet of the crumbling dock, there was a "swoosh" and the big fish got spooked. The thrashing, he said, ripped the hook from the fish's mouth and it was gone. Frank said he said there alone in the morning sun thinking, "no one is going to believe me." So, right there and then he made a pledge. He would come back every day and try to catch it again to prove he wasn't crazy.
As I read his story in the newspaper, I knew I had to visit Frank and find out what really drove him to catch a fish he claims he once had on the end of his fishing pole. He was a character. My instincts told me he had something to teach me.
Two days later I was on my way, early on a Thursday morning. I made the turn off Highway 41 in Oshkosh and headed west. It is farm country, but many of the farms are gone, being replaced by new houses. Two more turns on those country roads and I saw Frank's mailbox. He said I couldn't miss it. Someone had carved a giant catfish with a mouth that opened for the mail.
Frank met me in the driveway and I grabbed my camera and microphone from the trunk. He wanted me to meet his wife Betty. She came to the door with a brown paper bag filled with sandwiches and those small bags of Lay's potato chips. She said we would get hungry out there on the pond. She squeezed Frank's hand, looked at me with a sly smile and said, "good luck, men."
It was a short, quarter-mile walk down to the pond that I discovered did not have a name. It was just a pond behind the barn of a farmer who had died long ago. Another farmer who lived miles away now leased the land around it.
Frank kept his old rowboat tied to a dilapidated dock on the east side of the pond. "No one ever bothers it," he said, "who would want this old thing anyway." It was true. I was surprised the boat would even float. We loaded our lunch, his fishing tackle and my camera gear into it and he began slowly rowing.
He didn't say anything for about 5 minutes. I just sat there enjoying the sunshine. He stopped rowing and said, "This could be the day." I put the camera on my shoulder and clipped a microphone on Frank's fishing vest while he set up his pole and his bait. He slipped a big piece of bacon fat on the end of that giant hook and tossed it overboard. If that huge catfish was hungry, it had a feast ready.
Frank told me the story again about that day when he hooked the monster fish. It was filled with details. He pointed to the spot when he first felt the tug on the pole and then how the fish kept moving and pulling the rowboat. It was going to be a great story. The light was beautiful and Frank was a great "talker."
He, again, told me he would love to catch that fish again because he wanted to prove to his friends it was not just another big fish story. You could see he loved the hunt and he loved the pond and he loved being out in the fresh air.
He changed the bait several times in two hours. I shot more video of the pond and the cars driving by. I found out more about Franks life. How he met his wife Betty and how he had fought in World War II. At unchtime we ate our sandwiches.
At 1 o'clock we had not had a bite. Frank declared that fish never bite in the afternoon, so he began packing up his gear. As we walked back to the house, he apologized for not giving me a good story by catching the fish. I told him it was OK, and that it was still a good story about his life and his mission to catch it, someday. At the house, Betty greeted us again and I asked Frank to call me when he caught the fish. I wanted a picture of it to follow up.
The story aired the next day on WLUK Channel 11 in Green Bay. It was fantastic. My boss loved it and some viewers even called to congratulate us on doing the story. We got letters from people suggesting what special bait Frank should use to get his big fish.
About a month later I found a pink phone message slip on my desk when I arrived one morning. It said that Frank's wife Betty had called. I was excited, because I was hoping Frank had gotten his fish. I was excited to see it and see his face, beaming.
I dialed the number and Betty answered. My voice was filled with energy as I said, "Hi Betty! Did Frank get his fish?!" She said, "Well, no Frank did not catch that catfish. Frank is gone. He died 3 weeks ago." My heart sunk. She said, "He died in his sleep probably dreaming about that fish."
I expressed my sympathy, but, I could tell Betty had more to say. I asked her if she was sorry Frank didn't keep his promise to catch that big, old catfish he once had on the line in the tiny pond. She said, "Ross, there was never a real fish. But, that make-believe fish kept my husband alive. It was the hope he had everyday that his fantasy would come true, and that kept him moving and living and dreaming."
I realized, that even for Frank, it was never about the fish. It was about hope. He believed his own story about that big fish, because if didn't he would quit living. It was his way.
Betty said, " Thank you, Ross, for letting Frank share his story." We hung up.
Now, when I go fishing, I sometimes think of Frank. Even if there is no fish on the end of my line at the end of my day, there is always hope for the next day. Sometimes the stories we cover are not as simple as an old man, an old boat, a small pond and big fish story.