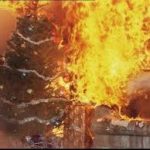 (I have been writing short stories about the stories I have covered over the years and what lessons they have taught me. This is one of them.)
When I came to work this December morning in 1976, I had no idea I was about to deliver some news that would make a man collapse in tears into my arms.
It was cold, but clear when I walked to the car in the TV station parking lot. We packed our gear into the brightly colored Chevy painted with the letters WFRV 5-Country Eyewitness News. The photographer and I had a two-hour drive ahead of us. I had argued against doing this story at the morning meeting because it had happened overnight and by the time we would get from Green Bay to Peshtigo, Wisconsin there would be no story left to get. But, we were told to go, and we did.
It was just a short 5 sentences we ripped off the Associated Press wire. It said, "Three people died in a house fire overnight. A mother and her two children were killed when the fire spread quickly. Firefighters worked in the cold to put out the blaze. The preliminary cause blamed the husband for over-filling a wood stove. One firefighter was injured". I called the fire department before heading out on the road; the dispatcher said they were still mopping up at the scene.
It was about noon when we arrived on the outskirts of Peshtigo. It was my first time there, but it was a famous place to people from Wisconsin. We had all heard about the great Peshtigo fire in our history classes. In 1871, on the same night as the great Chicago fire, a huge forest fire consumed the entire town. 1200 people died in the Peshtigo fire. There's a museum there with all the details. Other than that, Peshtigo is just another beautiful, little Wisconsin town. Now, another fire there would affect my life.
We had the address of this overnight house fire and it was about two miles out of town on a two-lane country road. It was farm country, but on this day the ground was all white. The snow was thick on the fields and you could only see about half of the old wooden fence posts holding up rusted barbed wire.
We rounded a corner and saw the house. The white two-bedroom place was still standing…but most of the roof was gone and the white snow around it was covered with black soot and cracked pieces of wood and charred insulation that firefighters had ripped away during the firefight.
The driveway was short and rutted and it led to the side of the house and a small garage out back. As we pulled in we saw two fire trucks parked next to the garage. Several men were still pulling hoses into one of the trucks.
My photographer began shooting the scene and I walked up the slippery back concrete steps of the burned-out house. I entered through the kitchen. The ceiling had collapsed, so this tiny space was filled with charred wood and ceiling tiles. On the counter were the things that said "family". I saw a cookie jar with a bear painted on the front. I saw mixing bowls and coffee cups.
I stepped over the debris and walked into a hallway leading to the front of the house. As I got to the living room, I stopped dead. It was hard to tell it was a Christmas tree. The fire made it look like black wrought iron and underneath it, surprisingly not burned, were toys and other remnants of a happy Christmas morning. Just 24 hours ago this family had shared a warm, loving holiday in this room. Now, the room was gone and most of the family was gone too. I just stood there. Across the room, I saw the wood stove that firefighters said was over-filled and caused this family tragedy.
We did the interview with the fire chief and were getting ready to leave when an official- looking car pulled up. It was the local fire marshal to inspect the place and confirm the cause. We hung around and found out that the preliminary cause; the overfilled stove was not the cause at all. Turns out, according to the fire marshal, it was an accident. A wire stapled into the wooden rafters in the basement had shorted out and the heat ignited some old insulation.
We headed into town for a sandwich, but something told me this story was not over. After eating at the local café, I said, "let's make one more stop at the house before heading back to Green Bay."
We drove into the driveway and noticed the fire trucks were gone. There was just one car parked in the back. As I walked toward the house, a man in a white t-shirt and black jeans walked toward me down the steps. His eyes met mine. His arm was in a sling and his face was covered with soot. My first thought was that this was the injured firefighter who had come back this morning to see the place.
The man took one step down and then sat down on those cold concrete steps. I walked up next to him and simply said, "Hi!" His eyes rose up and they filled with tears. He said, "I killed them." My heart stopped. This man sitting here in front of me was the husband and the father of the 3 people who died just a few feet away in his burned-out house. "I killed them", he repeated, "I filled that stove too full and I killed my own family."
I found myself sitting next to him as he cried. My photographer had grabbed the camera and was standing about 15 feet away. He laid the microphone down nearby.
The husband and father just kept repeating, "I killed them, I can't go on." I wanted to tell him that he had not killed them, it was an accident just a faulty wire. Then I realized he didn't know that. He had not met the fire marshal. He still thought it was his fault!
I grabbed his hand. I don't know why. I said, "Listen to me, I am a reporter and I was here when the fire marshal found that it was not the overfilled stove, it was a short in a wire in the basement. It was an accident, it wasn't you!" I heard my own voice. It sounded as if I was pleading for him to stop hurting. I wanted him to know. I wanted to help take away the pain.
He looked at me and said, "what?" I repeated the fire marshal's story. The man started sobbing uncontrollably. He collapsed into my arms. I will never forget what he said to me. He said "I thought I had killed my family and I knew I could not live with that on my heart. I don't know how I can live without my kids and my wife but knowing I didn't kill them gives me something to hang on to. I was ready to just kill myself right here, right now."
I told him, again, it was not his fault and he just cried. We sat there for about 15 minutes, not saying a word. Then he got up, looked back toward the door of the house where his loving wife and children had died. Then, he looked at me and said, "thank you." He shuffled to his car and drove off.
Our drive back to Green Bay that day was very quiet. When I aired my story that night, we used the video of my encounter with this man and I shared my experience with the viewers.
It was "my" Peshtigo fire. Not the one history records in that museum, the one that killed hundreds of people back in the 1800's, but a small fire one day after Christmas in 1976 that I will never forget. Even as a reporter you can't forget you are still a person and you are part of the story.