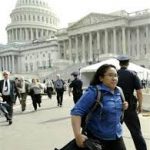 (I have been writing stories about some of the stories I have covered, so far, in my journalism career. Each one taught me something about myself or the profession)
When you are covering a story, sometimes you don't think, you just react. Only when the crisis moment is over, do you have time to reflect on what you did. I had one of those moments while covering the state funeral for President Ronald Reagan.
I was playing golf with a friend in San Diego when I got the phone call. Former President Ronald Reagan was dead. His age and his Alzheimer's disease finally took him. My news director at KTNV-TV in Las Vegas said, "get home as soon as possible, we have you on a red-eye flight to Washington D.C." It would be the start of 3 long days of work that would be filled with emotion.
We were set up in our "live" reporting location on the National Mall looking east toward the U.S. Capitol building. We were joined by hundreds of other reporters and photographers from around the world. The former president's body would be brought to the Capitol and lie in state while thousands filed past the casket. The Capitol police were already setting up the barriers that would form the lines into the building. It was a maze of metal fencing leading to the doors of the building.
It was hot and humid. 90 degrees with 90 percent humidity and, occasionally, we would be drenched by a downpour. We were tired, too. Each day was filled with seemingly endless "live" reports in every newscast we had on the air. In between, we were interviewing people gathering to pay their respects to the former president. On the second day, we had just finished a "live" report for our noon newscast in Las Vegas. It was already almost 4:30 in the afternoon on the east coast. Suddenly, there was a buzz in the crowd of reporters and photographers and everyone was looking toward the Capitol building.
People who had been in line to see the former president were running toward us. They were scared. Hundreds of them were coming at us. Some women were carrying their children. Fathers, too. I grabbed my briefcase and yelled to my photographer, "let's go!" We took off up the hill toward the building, fighting the crowd like salmon swimming upstream. Something was happening, but we didn't know why everyone was so scared. I saw a capitol security guard running toward me. I grabbed his arm and said, "what is going on?" He said they are evacuating the Capitol because of an unidentified plane is in the area and it might be a terrorist attack. He turned and ran away. I kept running toward the building. We got to the steps and froze. The police had taken the metal barriers used to marshal people and turned them into a blockade. I tried to call the station in Las Vegas, but our cell phones were dead. The authorities had turned off the cell towers in the area to try to stop the possible terrorists. It was at that moment it occurred to me that while everyone else was running from danger, we were running toward it, along with scores of other reporters and photographers. We kept looking at the sky wondering if a jetliner flown by terrorists was going to slam into the building just like they did on 9-11. What the hell were we doing there? We would be killed! We never really thought about it until we were too close to do anything about it.
There were bells ringing and sirens screaming inside and outside the iconic building. There is a procedure for evacuating the Capitol and it worked. In a matter of minutes, the place was empty, except for a few guards, the body of a former president and about 50 reporters and photographers milling around on the steps outside. We just stood there looking at the sky, but nothing happened.
It was a false alarm. A small plane carrying Ernie Fletcher, the governor of Kentucky, who was arriving for the funeral was preparing to land at nearby Reagan National Airport. The plane had been cleared to land but had radio problems that prevented communication with the air traffic controllers. Air Force fighter jets were dispatched to intercept the unidentified plane and that's what triggered the chaos, the evacuation and fear of a terrorist threat on Capitol Hill.
As we walked back to our "live" report location about two blocks away on the National Mall, everyone in our group was quiet. I was reflecting on what had just happened. What if this had not been a false alarm? I also found something out about myself and my colleagues. We didn't even flinch when the people came running toward us, we started running toward them and the story. The potential danger didn't cross our minds, until later. I was not alone. Reporters, photographers, producers and those who call themselves members of the "media" are first responders, too.
The rest of the time in Washington, D.C. was a blur of sweltering heat, patriotism, tears and pageantry as the funeral for the former president unfolded. I remember standing on Constitution Avenue in a crowd of people as the president's casket rolled by. At that moment, 3 fighter jets flew overhead as a tribute. I wondered if they were the same pilots who had responded to try to keep us all safe just 24 hours earlier.