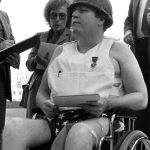 (I have been writing stories about stories I have covered, so far, in my career. Each one taught me something about myself or the world around me)
Larry Flynt is a character, a protestor, a pervert by his own admission, a drug addict, an instigator, a promoter and a master manipulator. He is the founder of Hustler magazine which, during the 1980's, the U.S. government called pornography. It started a war and I got caught in it.
In 1983, Flynt obtained a grainy, black and white videotape showing auto company owner John Delorean looking at a briefcase full of cocaine in a hotel room near Los Angeles International Airport. It was an FBI sting operation. Delorean could be heard saying, "it's good as gold". The agents claimed Delorean took the bait and was ready to buy the $24 million worth of drugs and re-sell them to financially save his car empire. Flynt gave the videotape to KCBS-TV on a Sunday and it first aired on 60 Minutes. Government prosecutors claimed making the tapes public jeopardized their case and the government demanded to know how this magazine publisher obtained this FBI generated surveillance video. Flynt refused to tell them, claiming protection under the first amendment. The battle was on and, as we all found out again, Flynt never plays by the rules.
As a reporter for KCBS, I was assigned to cover the court battle. A federal courtroom is a sanctuary. The rules are strict. There are no cameras allowed inside, so we had our courtroom artist there for Flynt's hearing. He was charged with contempt of court for not revealing the source of the Delorean video. He was ordered to show up and pay his daily fine, $10,000, or reveal his source.
We were all gathered inside the courtroom. The room was mostly filled with reporters. The federal prosecutor was sitting with his team at the table in front. The big double doors in the back of the room opened and we could hear his voice immediately. Flynt was already talking, taunting, laughing. His laugh sounded more like a cackle. Behind the two security guards leading him, we saw him sitting in his wheelchair (he needed the chair because of an injury suffered years earlier in an assassination attempt). He was wearing a bulletproof vest with a purple heart pinned to it, and instead of pants he was wearing a diaper constructed from the U.S. flag. He said, "if they are gonna shit on my rights, I am gonna help them shit on the flag". It was his protest and it was a bold move even for him.
They rolled him up to the defense table where he met his lawyers. The attorneys were obviously caught off-guard by their clients' antics but, Flynt would not be silenced. He growled that he should be protected by the first amendment and he said he was here to pay the fine for contempt. A man behind him had a white, cloth bag. Flynt said it was full of money.
Federal Judge Robert Takasugi came into the courtroom as the bailiff shouted, "all please stand". He asked Flynt to reveal the source. Flynt said he was the publisher of Hustler magazine and was a member of the press protected by the first amendment. The judge imposed the fine and that's when Flynt asked his helper to open the white bag. Inside was cash. He said there was $10,000 in small bills. The judge was smiling. Flynt said he would continue to show up everyday to pay the fine and next time he was bringing pennies.
Takasugi ordered Flynt, personally, to count the money for the court clerk and that added to the bizarre court hearing. It took a long time and during the counting Flynt kept talking and the judge kept asking for order in the court. There was Flynt, dressed in a red, white and blue diaper, wearing a bulletproof vest and a borrowed Purple Heart, counting stacks of $1 bills. He brought 8,000 $1 bills and paid the rest in $5, $10 and $20 bills.When the hearing was over, we met him on the sidewalk outside. He was clearly loving the attention and the protest. He was putting on a show to make his point and it worked.
A few days later, the judge granted Flynt immunity from prosecution if he broke any law to get the videotapes. He was also ordered to testify before the grand jury hearing the Delorean case. We never found out, for sure, who leaked the FBI video (he claimed it was someone nicknamed "the Samurai").
But, Flynt was not immune from facing another charge. Within a few weeks, Flynt was charged with another crime, desecration of the U.S. flag. You don't use one as a diaper in federal court without consequences.
It was clear this case, on both sides, was not about justice. It was about who would win the battle of publicity. It was an unfair fight. Flynt is a master.