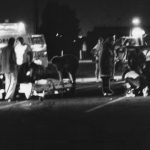 (I have been writing stories about some of the stories I have covered, so far, in my career. Each one taught me something about the profession or myself)
There is no mistaking the sound of an explosion. I was sitting at my kitchen table in my westside Indianapolis apartment and the window was open because it was a hot, muggy September evening. It was quiet in the room. I was writing checks and paying bills after a day of work at WTHR. I was a reporter working for Channel 13 and the big story that fall of 1978 was a series of mysterious explosions in trash bins in the town of Speedway, home of the Indianapolis Motor Speedway. So far, no one had been injured, but people were scared. They didn't know who was doing it and why.
I could barely hear the traffic on the freeway about two blocks from my apartment and, occasionally, I could make out a dog barking, somewhere. Then, there was a muffled boom. I didn't just hear it, I felt it in the pit of my stomach. It was not a loud boom, but I sat up straight in my dining room chair and froze. It was an explosion and I knew, instinctively, it was another one of the mysterious bombings.
I called the WTHR assignment desk. The night editor had not heard any radio calls, but he promised to check on it. For a moment, I felt the fear we had been talking about during our newscasts. It was an uneasy feeling of being unsafe. Then, my home phone rang again. When I answered, the assignment editor had a different tone. He said, "it was an explosion and this time there are injuries. I need you to go. It's near your apartment. The police are staging at Speedway High School". I hung up and ran to get dressed.
I was on the scene in about 15 minutes and it was chaos. Our photographer had not yet arrived, so I parked my car just outside the yellow police tape and headed for a group of people in the parking lot of the high school. Many were crying. They told me a man had picked up a duffle bag left next to his car and it exploded. He was hurt, badly and so was his wife. The freshman football game was over and the parking lot was full of people.
The police were not saying if this "bomb" was connected to the other explosions that had everyone afraid, but there was not doubt what people at the school were thinking. They told me they were terrified. They said they were afraid to let their children play outside. It was terrorism, and no one knew why it was happening.
Carl Delong had his right leg blown off by the blast. He had survived Vietnam, only to face violence just blocks from his own home. The Speedway High School bomb was the last one of the series, but at the time, the people of Speedway didn't know that. They lived in fear for weeks, wondering when or if another one would explode somewhere.
The rest of this story is a complicated one involving a young man from Indianapolis who was found guilty of setting these explosions as a diversion. Police were closing in on his marijuana smuggling operation and he planted the bombs to try to distract them. Brett Kimberlin was eventually caught, tried and sentenced to prison. I stayed on the story, even traveling to west Texas to see the makeshift airstrip he used to land planes filled with illegal marijuana. He is now free again after serving his sentence in a federal prison.
It was my first taste of what we now call "domestic terrorism". I heard the bomb go off that quiet, September evening and then I felt the fear of people in Speedway, Indiana wondering if their world would ever be safe again.